Hello TPFers,
Yesterday was a very special day for me as I walked into the London Selfridges Dior Boutique and acquired my first Dior item with my own hard-earned cash, and at 21 years old I'm sure you can imagine that it was a big deal for me. I have been in the market for a designer wallet for some time now and when I was younger and started getting into handbags I never ever thought that Dior would be the brand for me. Now I'm a little older and cannot get enough of the brand, it is classy, timeless and elegant. I will be purchasing their flats and jewellery soon and someday a handbag!
Anyway, without further ado I reveal my
(Black and Fuchsia)
Diorissimo Envolée Wallet
: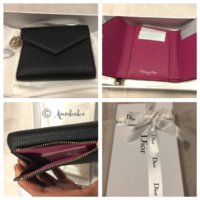 Initially I was gutted that I didn't choose a wallet with the Cannage stitching but then I began to appreciate that the colourblocking and charm are indicative of a Christian Dior piece. It is elegant and sophisticated whilst maintaining a youthful edge to it. In my opinion I still have to mature into the Cannage stitching so this is a fantastic entry piece.
Price: £320 = $459.97 = €406.64
On a side note:
I had a hard time choosing which wallet was for me, I ruled out a continental wallet immediately because I prefer the compactness of the billfold. A lambskin wallet just wouldn't hold up well for me because I know that I would put my wallet through a lot by juggling it between bags and so I opted for grained bullcalf. Also, the wallets with the larger charms were far too jingly for me. I would strongly advise anyone who is looking to purchase goods from Dior to visit the boutique because there are a wide range of options there and the sales assistants are very helpful.