I wanted a new bag and had a trip booked to London so I figured I would buy it there coupled with a weak pound and I knew it was the perfect opportunity.
My shopping experience at Dior was a fantastic experience. I stopped into Selfridges concession and then again at Heathrow with a personal shopper. I was sure when I saw the bag in Selfridges, but I was considering the bags in this picture at Heathrow--the 3 finalists!
The blue bag has the champagne hardware also has the crystal strap. The green and burgundy bags have silver hardware. The burgundy in that photo had an adjustable plain strap which I wasn't aware Lady Dior bags had.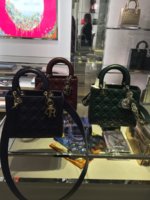 I knew what I liked so I got the hunter green bag. Here she is at the store.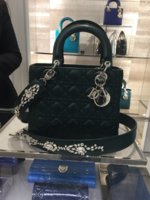 At home in my room--the light a warmer and softer.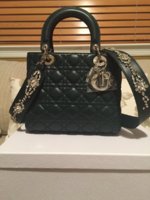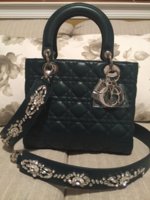 I was very, very impressed with the service at Dior. They offered me sparkling water in a glass flute. My personal shopper said in Chanel you have to ask for still water and they give it to you in a plastic cup--which is nice but I know which service I prefer! Literally, this bag is starting a new interest in Dior. I'm already plotting my next purchase!