At first I was hesitant to join Purse Forum because I really don't have much time on checking things on the web, but when a friend of mine told me that she had an amazing experience here (translates to broader view of the luxury industry especially bags) I just saw my self signing up for the forum.
And because I'm new with this, I thought of doing "
My First Designer Bag
" as my first post/subject.
"
My First Designer Bag
" was a second-hand (yep! not brand new. I was still cheap at that time and I'm a proud owner of some second-hand bags
) Louis Vuitton Damier Speedy. I saved a portion of my 5 months allowance in college and bought the bag in a second-hand luxury store in Manila. I was ecstatic at that time because I really love the bag and since then I said to myself that in the future, I will walk the aisle of LV Manila and ask for the same bag and I will buy it. Two years after my dream did came true. I was able to replace the bag with a new LV Damier Speedy... and then some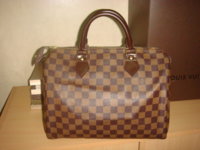 I want to know what bag you first bought
(not received) from your hard-earned money and
how was the experience
? and was it your
first dream bag
('coz we all know the "
dream
" will not stop in every acquisition)?
Answer this:
"
My First Designer Bag
...."