I've been reading about decreasing Chanel quality but so far, I've been lucky in that I haven't really experienced problems with my purchases.
Until this happened.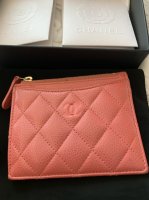 Got this last March (18S collection) and been rotating it with my other Chanel SLGs for about 6-8 months. Haven't used it in a while and can't even find the CC so not sure when it happened.
Hoping Chanel won't be charging me for the repair as I think it should be considered a defect rather than wear and tear??