Finally decided to treat myself to a nice bag this Christmas with an unreal busy few months both work and personal life. I started with my first Dorset tote and have been loving the leather since. I also own purses from other brands but if you want classy and understatement, Mulberry it is.
Introducing my new Bayswater tote in chocolate!! The key fob is currently out for monogram and will return soon. I was contemplating either this or oak. I love the oak colour and know it will age rather nicely. However, since I tend to use it as my work bag, chocolate should be much easier to maintain.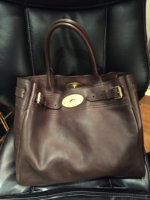 Can't wait to use it on Monday!