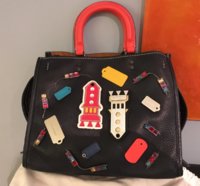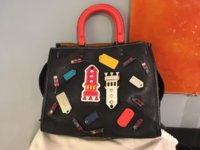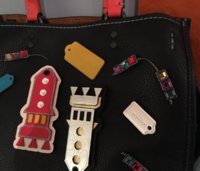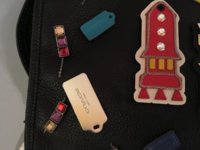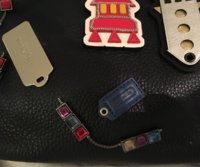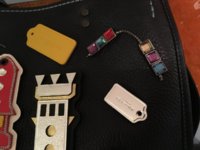 Last year I got the Rogue Runway Teddy Bear bag, but never really appreciated the Teddy Bear patch itself, but I did love the bright orange handles. I had tried to grab the Rocket model (red suede, rocketship) but it was too popular and sold out immediately. I have searched the entire internet for that rocketship model and have yet to see even ONE, anywhere! It kind of became an obsession to own one.
So I've finally taken matters into my own hands and created my own "Frankenstein" style hybrid of a Rocketship Patch Rogue.
If you're interested in how I managed to remove the original patch (don't want to bore you), let me know and I'll post it separately. But in a nutshell, i added my own combo of various Coach hangtags, the two Large Rocket Purse Charms, and faux gem squares from an old necklace that I disassembled for this purpose. I used Gorilla Glue as the adhesive and it's technically still drying -- I just finished a few minutes ago, but was eager to post my pics.
This Rogue will be fun to wear in just about any situation other than a formal event! It should fit in well with everyone else's majorly embellished purse exteriors that all designers are trending now. It uplifts my mood just looking at it, haha.
Here are some closeups of my new creation: