This is my premier designer main bag collection as of tonight, November 20, 2019!
I buy + sell bags relatively often because I don't tend to keep what doesn't work for me. I have other pieces in my collection that aren't here, but these are what I use most.
I finally took the time tonight to organize my bags and sort them properly into this big shelf and others I don't use as often into a smaller shelf, I realize my bags are quite similar and I'd love to add more color (red!). I also have a good amount of flap bags... Sold my only two camera bags earlier in the year, and still haven't found the perfect one.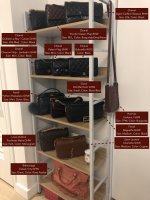 My latest addition: only just received this lovely small Gucci Marmont in this special diagonal matelasse quilting tonight! My first ever Gucci bag. I'm very excited, I wasn't a fan of the regular marmonts because of the quilting and the heart on the back, but this one doesn't have the heart and I love this vintage-effect leather. This bag also looks "younger" to me than most my other bags, since I tend to buy classics that are a little more "age-less", not that it matters-- age is just a number.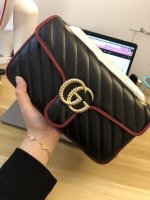 This time last month, I received my first ever exotic handbag, a blue python Fendi peekaboo. So chuffed to have it! The blue doesn't look nearly as lovely in my dull lighting, but it's actually stunning.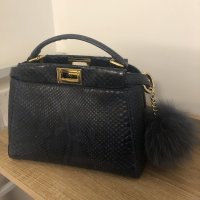 Hopefully this little thread can serve as a way for me to track my purchases as well as my thoughts on this never-ending bag journey! I've stopped buying bags as often and actually sold quite a few recently.
At this point in time, I'm not sure exactly what bag I'm looking to add to my collection but I do have several on my radar:
- Valextra Iside Bag
- Saint Laurent Jamie Bag in Patent GHW (Considering selling my Chanel mini patent SHW to get this one, because I'm more of a GHW girl so I'd wear it more, and it'd fit more)
- Loewe Small Puzzle Bag GHW (I have a red mini puzzle right now, love the functionality but would love a bigger size)
Last edited: