I just purchased Odeon PM as an early birthday present for myself. I like when I feel the love from from the first sight.
Somehow I don't feel it.

Not sure if this is size a bit too small and strap a bit too short cross body. But I don't like big bags. Wanted carefree crossbody not too dressy so I could use it for travel (not very often +/- twice per year ).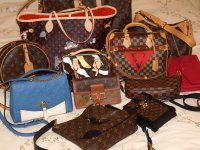 Well I'm not sure what to do. Does it fill the gap in my small collection? I don't want to have too many bags because I hardly go out and don't take my bags to work. Having the bags I have would you keep the Odeon?
Last edited: