Hello everyone
I would like to contribute a bit more to this forum and show you my small collection.
I started buying VCA after I got some pieces from Cartier. I feel VCA is more special for some reason. I also love the fact that very few people know what it is and when they complement it is because they see beyond the brand name.
Here comes the pics
Don't you just love this white boxes?
My first piece was this pair of sweets, I never thought I would go for this but when I saw them at the boutique I was totally sold. They are so gorgeous and the size is perfect for me. I've had so many compliments on this studs is crazy. More compliments than any other material thing I've ever owned in my life and I'm not joking [emoji1]
Sweet Alhambra yellow gold and onyx studs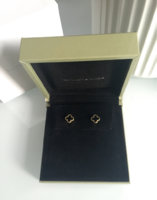 Next is my VCA hg, this ring was what made me fall for this brand. First I saw it in picture and I loved it, I think is was a magazine or a catalogue I'm not sure. When I finally had the chance to try it one I knew I had to have it.
Pure Alhambra yellow gold and onyx ring
The quality in this ring is so beautiful but impossible to capture in picture. The way the stone is shaped and set is flawless. The ring is heavy and very solid, I absolutely love it, my favorite piece of jewelry.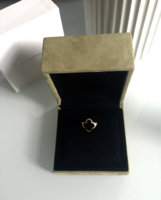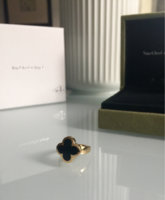 Finally my new pendant
I haven't used this one yet but I love how simple it is, I just got it a couple of days ago.
Vintage Alhambra yellow gold onyx
I won't be wearing all of them at the same time because is too matchy for my taste but each piece is so gorgeous I couldn't be happier. The reason I think my collection is complete is because there isn't other pieces that suit me.
I find so many other necklaces and bracelets beautiful but they are too femenine.
So I think this is it for me, thanks for reading and I hope I inspired someone out there to go shopping.
Family picture