Oct 23, 2005
13,048
36
39
I really like opening orange boxes

I don't know what I like more, the orange box or what's inside!
It really was Brighton Blue instead of Sapphire Blue. My SA said it was wrong in the system at the BH store. I'm glad I received the color I originally wanted.
I'm so happy with my new Karo - it fits everything so nicely with room to spare. I love how easily it opens, since most of the time I'm driving (or just in the car!) while applying lip gloss, brushing my hair or doing a quick check in the mirror :shame: I love the easy access! It will make a great going out clutch, too.
The Brighton Blue looks wonderful with jeans, I'm wearing a pair of dark blue Citizens of Humanity pair today, and it looks smashing, I must say
Thank you to everyone who gave me great info on the Karo. It really helped me with my purchase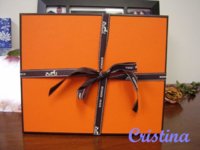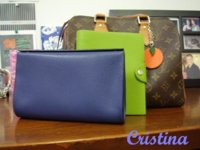 <--- family photo