Okey, pretty sceptic about this, but I have decided to show of my three bags. I don´t own any expensive bags. I would do anything for a red Chloé Paddington, but I can afford one in maybe 10-20 years, so stay tuned…hehe
1: This one is purchased in a local supermarket. Jah, I know…but what people don´t know, right..hehe. This is the one I use for school everyday and if you can´t see the colour it´s army green. You can open it and you get to another layer and in there is a sipper, so this is what I would call a practical bag.
2: My beloved bag. My first bag I ever bought myself. Cheap and from H&M. It did come in black, but I could only find a brown. There is a hoop on the straps with a key chain of some sort.
3: This is the blue bag I mentioned in the present threat. The one my mother bought for me in H&M as a christmas present. I don´t have the heart to give it away, so I kept it. This is also a practical bag.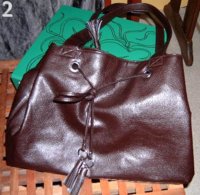 Ronja