MVP Plastic surgery experience:
Hello! I went to Korea for incisional double eyelid surgery with ptosis correction with MVP on 10/13/18. I am a 23yo female with thick/fat/droopy mono-lids causing me to constantly use my forehead muscles to open my eyes wide. Prior to arriving in Korea I consulted with a few different clinics online and through messaging apps and decided to put in a deposit for MVP to secure a surgery date after careful research. I wanted to write this review because I am sure a lot of you, like myself, depend on truthful reviews for choosing your clinics and surgeons. During my research, I was limited to English forums like this one as I was not able to read Chinese or Korean which limited my data range.
I contacted MVP through WhatsApp where I spoke to Elizabeth, one of their English translator/consultants. She was extremely polite and responded within reasonable times. I submitted a $500 deposit for my surgery date and time and also scheduled a consultation with Dr. Seo. I was not provided any transportation services as my surgery total was did not meet their criteria of >4mil KRW for the free transport services to and from the airport.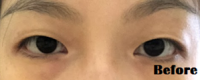 The Consultation & Price:
My consultation was with Dr. Seo at 9:30am. Elizabeth was present for translation as Dr. Seo did not speak English. The consultation mostly involved Dr. Seo poking my eyelids and drawing on my eyes, he then gave me options of eyelid crease heights and his opinion of what would look the best on me. I went into this consultation solely relying on his professional opinion. We agreed on a parallel crease and a natural looking height that was not too low or high. He then addressed all my concerns thoroughly. It was definitely a bit overwhelming as this happens quickly, my advice is to bring a list of questions so you don't forget to ask them. I then was escorted into a room to speak with Elizabeth regarding the price, consent forms and surgical risks. Although I did ask for any discounts available, she told me this was the cheapest price and I was charged the price originally quoted to me which was 2.5mil KRW (around $2.4K) for both incisional DES+ Ptosis correction. Tbh I would not consider this price too pricey if you trust the clinic, although my Korean native friend told me this is the "foreigner price" and is considered pricey. This price includes the sx, anesthesia, post-op rx meds (abt, stomach protectant, Tylenol & abt ointment), 1 de-swelling treatment (laser+ IV vitamin cocktail) and a care package (2 pumpkin juice, 1 nutrition drink, 1 eye-mask). Although I negotiated for 2 post-op de-swelling treatments.
Surgery:
My surgery was scheduled for 10:30am (Dr. Seo's 1st surgery of the day). I was told to tie up my hair, wash my face, rinse my mouth, change into their robes. I then had bloodwork taken and went straight into the surgery room where I was strapped onto the table to prevent movement during the sx. I was then connected to IV saline bag as well as BP and O2 monitoring. Dr. Seo came in and continued to draw on my eyes until he gave the signal to administer the anesthesia which I was immediately put to sleep. It was very trippy, I saw colors and felt extremely dizzy. By the time I regained slight consciousness I was on the surgery table and felt sutures touching my face, but my eyes were completely numb. Dr. Seo asked me to open my eyes one time during the surgery (to ensure evenness), although I am not sure I fully complied as I felt as if they were so heavy and I couldn't open them at all. The procedure was painless. Next thing I know they were telling me to get off the table and walk to the recovery room where I was provided an ice eye mask and infused with some more saline to flush out the anesthesia. I was there for another 30-40 minutes until I felt ready to leave the clinic. Prior to that, they made sure I urinated before leaving (ruling out anesthesia complications such as urinary retention). Total surgery time was about 2.5 hours.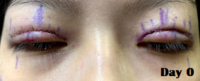 Day 0: The Day of Surgery:
Right after the surgery, I wanted to get my day started. I was hungry due to fasting for about 15 hours prior to surgery so I went to eat right after surgery, bad idea! I began to feel nauseous after my meal and vomited. I then walked around for a little more at Myeongdong as I waited to pick up my rx sunglasses. I ended my day early and went home to rest and ice my eyes throughout the evening and night. Definitely take this day to rest. I was extremely swollen this day as I might not have iced it enough the first few hours' post-surgery. I began to feel pain on my incision 3/10 a few hours after surgery as the anesthesia wore off and it was effectively managed with Tylenol. This is the only day of this whole process where I felt pain at the surgical site besides the occasional sharp tugging and pulling pains throughout the recovery process which I believe is due to the recovering of the nerves.


Day 1-2 Post-Op:
The first two days after sx was the most swollen of all which may be attributed to my poor diet, as I did go out to eat a lot of high sodium foods. I tried to drink as much water as possible. I was also out exploring Seoul and did not ice majority of the day until the night. Day 2 of surgery, I went back to the clinic for suture cleaning and my de-swelling laser and IV treatments which took no longer than 20 minutes' total.

Day 3-4 Post-Op:
The swelling was moderate on both these days but I was able to open my eyes a little wider and the it became less red and less discolored. It was still very heavy and tiring when my eyes were open for a longer period of time causing me to fatigue easily.

Day 5 Stiches Removed & Day 6
: I was told stitches were removed 4-5 days after surgery, and for me, it was day 5. Elizabeth told me I was more swollen than normal for day 5 post-op. The process of stitch removal was quick with slight discomfort as the skin around the stitches are healed causing tugging and burning but nothing unbearable. It felt great after stitch removal as it no longer pokes your skin and you are able to open your eyes more easily. Swelling continued to decrease on Day 6.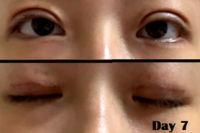 Day 7 One Week Post-op:
You can see day 7 is significantly less swollen with minimal discoloration and bruising. I feel like one week marks the day where I finally felt like my lids were not extremely heavy and tired and I felt more comfortable. The healing has been notably faster after stitch removal.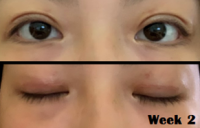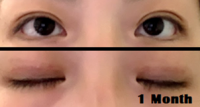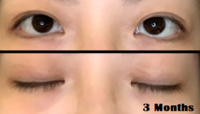 Final Results: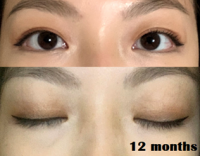 Final Thoughts
: Best decision ever! Money well spent! Overall, my eyelids are even in height although I may wake up with one side more swollen/higher depending on how I sleep. My procedure included ptosis correction, but I don't notice much difference in terms of any lift in my eyes, but having double eyelids on its own makes me look more awake. In terms of scarring, there is a "scar" where the incision was made. As you can see in my 12m, it is slightly lighter than my skin color, not discolored and is barely noticeable as it disappears into the fold. Do not expect a scar-less procedure. I would definitely recommend Dr. Seo from MVP for natural looking DES. MVP is one of the few clinics that provide post-op care such as suture cleaning, IV de-swelling infusions and laser treatment prior to sutures being removed, which was nice. I am not really sure if it helped with the swelling, but it was nice to get it cleaned to remove all the dried up gunk off the sutures post-op because you are not allowed to wash your face but I would say the "de-swelling laser" was useless, it was just a red light, wasn't warm or anything to help with circulation. I have heard MVP follows up with you even after you return home but MVP never checked up on me since my suture removal, which is not a big deal since there were no problems on my end.
Vitamin Regimen
: During this process, to facilitate healing, I took a variety of vitamins and supplements including, Arnica, Bromelian, Vit A, Vit C and Zinc. Throughout the healing process, I experienced moderate swelling but a very minimal amount of bruising and no yellowing and I think that is thanks to the Arnica and Bromelian.