So my husband and daughter took me to the LV store today to purchase my Mother's Day present. It was so nice having them with me when I got it. I was hoping for a MIF but they only had one left in the style I wanted and it's Made in US. But I am thrilled to have gotten it.
A few modeling shots of me with my new MM Monogram Neverfull with Pivoine interior.
Also, just wanted to ask if you think the size is ok. Wasn't sure if it was too big on me. Thanks for letting me share!!
View attachment 3350733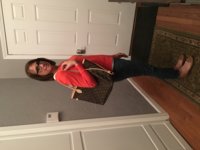 Last edited: