i ventured into the world of balenciaga accessories today, getting my first coin purse in the grass green: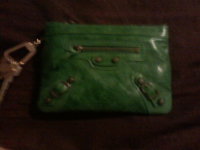 i wish i had a better camera than the one on my camera phone right now, but this color is simply beautiful!! I'd say it's a mix between apple green and 06 emerald, kind of like the perfect mix, more eye popping than emerald but less loud than apple green!

i also was able to see some other colors at BalNY, the vermillion color is VERY red, i didn't see any orange undertones as others have said there is - im seriously considering getting a vermillion courier (must resist!). The leather on the bags i felt seemed very similar to the dry fall 06 leather, and some i saw were even veiny, so overall im not too excited about this seasons leather. Have yet to feel an 04 or 05, but hoping Balenciaga produces fall 07 bags with thick and squishy leather so i can see what all the fuss is about!!