For those that didn't read in the bag offer thread, I never buy myself anything. Wife and I went shopping in NYC and I found a Moncler jacket that I love. At the exact moment that I'm looking down at the credit card machine and it says "Approved", my phone rings. It's our SA saying that she has a Black B30 with GHW for us. It's like she sensed a disturbance in the force to remind me that all spending is supposed to go towards spoiling the wife more and more.
I promised a picture or two so here you go.
And since I know you could care less about the jacket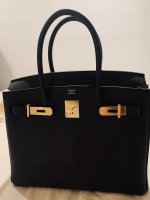 Happy Holidays!