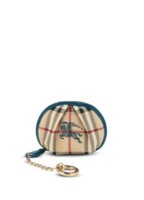 Anyone seen this in stores? I notice bloomingdales.com lists it as a mini dome pouch and burberry.com lists it as a keyring purse. I've seen the pouch come in trim colors:
Red
Blue
Purple (!)
Yellow
I love it. It retails for $175 and I have to say that it can hold quite a bit. All my CC cards, wad of cash and a cosmetic or two. It looks so small online but it can fit a lot. I think I'm going to go back and get it this week. Only problem is, I don't know what I can attach it to in my Haymarket Tote bag for easy access.
Please share your thoughts on it if you own!!!