Hey all, first post ever!
I just bought this Mike & Chris Austin Bag and I'm a bit clueless on how to care for it (it's my first "expensive" purchase). Anyways, I was hoping someone could offer advice on if the leather needs to be treated before use. I've asked a few online shops but their replies are pretty inconsistent.
And does anyone own this bag? Do tell! I've never seen it in person but it looked so nice online.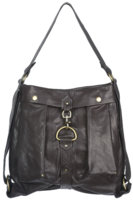 blaec.com