elloooo ladies~!!

need opinions~!! i've had the bryant jacket for about 3 months now, but i realised that it's wayy too long!! it's a comfy fit, but it's just not flattering...

so i've decided to sell it and get something more fitted. and so far i've decided i like the Bret leather jacket, and also the new Eames leather jacket.. so here's the lowdown:
Eames
- it's got pocket at the sides i can put my hands in, which may not necessarily be good since it seems to strech out that section. and it's a zip up, big plus because that makes it more practical. i've never seen it IRL, but from the pics it looks a bit on the short side, and it looks a bit flared... would that even be flattering in reality?
Bret
- i love the overall design! the lil metal buttons add something to the jacket! no pockets (again not really sure if its a good thing?) but it's a bit difficult to get 'coz it's last season...and it's got snap buttons, which would be impractical, although it's the perfect length...
so, opinions??
Eames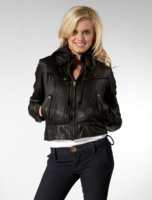 Bret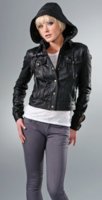 TIA everyone!!!