Some background info:
I've been obsessed with small bags lately. No, I'm not referring to the ever-so-popular b25 or k25. I'm talking about MICRO bags (which is anything smaller than a k20). The new version of the mini k is becoming more common, so I've been looking at vintage mini kellys with the rounded handles. Even the vintage ones are frequently appearing on social media, causing the reseller prices to skyrocket. I've been reluctant to pull the trigger on the vintage mini kelly due to its high price ($15k+) and availability. Every popular reseller/website seems to have it in stock, so I figured I can buy it at any given time in the future.
Then I stumbled across my unicorn:
a MICRO KELLY



I believe the actual size is a k15 and boy is it tinyyyyyyyyyyyy. I first saw it on Chiara Ferragni's IG. Since then, I've only seen it in editorial runway photos from H (see below).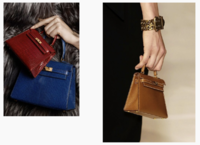 As I meticulously research this bag, I've only seen a handful of people own the bag. It's even more difficult to find someone selling one. All the google results are from already-sold bags and the prices are ridiculous. One of the top google results is $40k for one in blue box- SOLD.
I finally found two micro kellys with a "reasonable" price tag, but I'm having difficulty making a decision. I'm also debating if I should even get one.
OPTION 1- micro kelly in black box ghw
Price: $16k
Condition: there is a very noticeable scratch on the front.
Thoughts: I have accepted the flaws on my other box bags, but this is definitely the deepest scratch that I've seen. The bag is small, so the mark seems extra noticeable. Unfortunately, there is no discount for the damage.
OPTION 2- micro kelly in green lizard ghw
Price: $22k
Condition: seems to be in better condition than option 1. No box or dustbag.
Thoughts: If I'm willing to spend $16k on a (noticeably) damaged micro kelly, why wouldn't I spend an extra $6k for an exotic one in better condition?
OPTION 3- use the money and purchase a brand-new exotic instead
Thoughts: Rather than paying premiums for a used bag in less-than-excellent conditions, I can always get a brand-new b/k from the store.
Final thoughts:
As of late, I've rarely encountered bags that made my heart skip a beat. I think I have enough regular leather bags, so I added some in heritage leathers. While I patiently wait for a fauve barenia b25 or k25, I occupy myself with thoughts of my first exotic. No exotic colors have piqued my interest so I shifted my focus to researching bags that are no longer in production (ghillies, shadow b/k, leather/toile combo, crinoline, teddy bear, etc). I've bookmarked and organized the ones I've found online, but I haven't pulled the trigger. I've only been able to justify three second-hand purchases: a micro birkin, a two-toned box b25, and a vintage box k28 (cus the price was just too good).
I'd like to hear your thoughts! My apologies for the excessive post. If you've made it to the end of this post, THANK YOU FOR STICKING AROUND. I wanted to be detailed to give you guys a better understanding of my thought process. TIA