What started as a constructive call to Customer Service is apparently going nowhere fast. Last month I was walking around my local Marshalls shopping and I hear a thud. My MK wristlet dropped to the floor next to me and thank goodness I heard it when it happened! For those of you who have wristlets like these, you know that the wrist strap has a pivoting clasp at the end that attaches to a small D-ring on the wallet itself. Well, the pivoting clasp fell out of it's rivet point at the end of the strap! Here is a picture: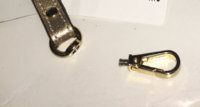 So I call these folks at MK since it was purchased from Neiman Marcus in late Jan. 2016 so it should be under warranty. The gal tells me I have to send in the entire wallet with the broken strap! Hell if I am gonna do that! The don't make this type of wallet anymore; all the new ones are humongous and open flat, which I dislike.
How hard should it be for these folks to realize that I can send them the two pieces of the broken strap, plus a copy of my receipt and copy of the original MK price tag and they should be able to send me a repaired strap or a new one? They are still making things in Pale Gold, so this shouldn't be an unreasonable request. Even if it was another complementary color.
I worry that they will try to replace my whole wallet with one of the new style flat ones and I will not use that.
I already bought a slightly cheesy looking leather gold strap from China although it is not Saffiano so I guess I will just live with that. Or use another MK strap from another wristlet. Or scour the internet for a used MK with a pale gold strap like this. Sigh.