I visited my local store today and asked what's what's coming soon. Seems likes it will be a lot of metallic colors. As far as Fall it will lean toward silver tones and for cruise it will be gold's. So for you silver lovers it will be coming soon.
Here are two pic's I took in stores today. There was also a silver-black metallic flap but didn't get a pic as a customer was looking at it. The "hombre" is M/L classic flap size which starts at black then lightens to bronze, gold tones. The other is a mix of black and golds, a bit different by a touch in size of M/L. The hardware is brushed gold.
I asked about light colors for cruise in Caviar classic flaps, M/L, Jumbo and was told there will be beige's in caviar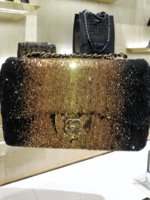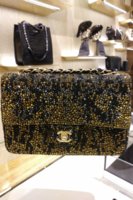 with gold hardware.
Please keep us posted in whatever you hear. Thanks!