Feb 28, 2006
14,366
1,612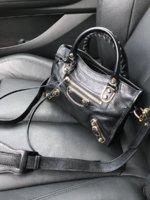 Treated myself to this little Metallic Edge Mini City in black goatskin and I love it! So lightweight and I like the substantial shoulder strap.
This one holds more than my giant hip and I like the fact that it can go dressy too. The new Hamilton chèvre is divine.
I personally prefer it to Agneau because of the beautiful texture and durability.