Hello all! I'm in search of a large "bag."
My issue is that I don't really enjoy shoulder bags. I find it fussy to use because I need to be handsfree or I'm a mess [emoji13]
So after trying on so many bags like the neverfull and delightful, and never finding a match I decided to look at the backpacks. I know they seem big from the angle of the photo but I think it could work for me. I could use for my laptop, work papers, school work & travel ...and maybe for a mommy-kids bag in the future.
Now to choose: the Josh or the Jake?
How do you all feel about backpacks on ladies? I wanted to try on the bosphore but no one had it in my area... plus I like the convenience of zips...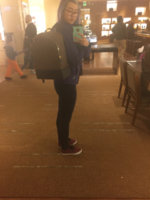 Sorry the mods aren't great but what do you all think?