Sep 29, 2008
13,345
4,508
So, thanks to Oggers and Cindi for suggesting I open this thread to introduce Maia-Annabel's minions

I thought I would also share their stories, how they came to be rescued and adopted.
So, who's up for a photo reveal?
Let's start with Murphy
Murphy was a Battersea cat. My first adoptee (Bon and Clyde, my first cats, were also from Battersea - I got them when I rented their owner's home, and they stayed with me until the end of their lives - when I moved, they came with me as she no longer wanted them) in that he was the first cat I chose for myself.
I thought I was such an experienced cat owner at that time. In reality, I knew nothing. I hadn't started doing rescue work myself, and I went to Battersea as a kind of tribute to Clyde who had died earlier that year.
I fell in love with Murphy the moment I saw him. Can't explain why - I just knew I would be standing by his pen until they agreed I could take him home.....
He turned out to be one of the most difficult cats I have ever helped. Murph had been kept shut up in one room, where, as he hadn't been neutered, he became frustrated and very aggressive. In addition, as he hadn't been exposed to people or other cats, he was beyond shy - just terrified of the world.
When I got him home, he thanked me by biting me so badly I had a bruise for the next fortnight. Even now, I know to watch him in case he 'turns'. Anyhow. At the same time, he was desperate for affection. On his first night he got into my lap, purred, fell asleep and then bit me again as soon as he woke up.
It took a lot of time to settle him in, but I watch him now with Maia-Annabel, cleaning her up and snuggling with her, and playing chase with Phil and Tommy, and it's all been worth it.
Here he is.....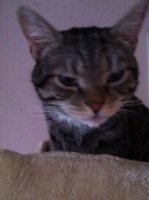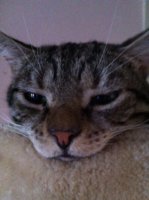 Let me know when you're ready for the next reveal!