Hello everyone!
I'm usually in the LV thread, but I have a love for Marc (I have so many of his bags). Recently, I purchased a preloved Natasha in Cardamom Brown, and I didn't notice the fading.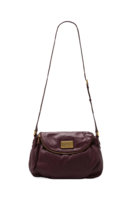 This is what the bag should look like.
It currently looks like this:
As you can see, there's lots of fading and uneven colors. I was wondering if anyone had any recommendations for dyes?
This is my favorite handbag. I have 3 Natasha's, and use them all regularly.
I don't really want to dye it black, but if it's my only choice, I would. I would love to get it back to its original color.
Thank you all!