I've been wanting a classic flap in caviar with silver hardware for awhile, but I already have a lambskin CF in ghw and felt like the two bags were too similar to justify having both of them. I also prefer fashion that's a little edgy and unique, and having two classic flaps felt more mainstream than I'd prefer. (Don't get me wrong, they are
gorgeous
, but I felt like I wanted to branch out to something a little different.)
...Then, I discovered the
iridescent
classic flap.
Within a few days, I saw
Fashionphile
post one in my favorite size (M/L), so I swooped it up and just got it today. I believe it's from 18C, and it's a 25-series.
Before getting this bag, I had done TONS of research -- I pretty much watched all of the YouTube videos and read all of the posts here to try to figure out how sparkly the bag actually was. I wanted something unique, but I didn't want a bag that looked straight-up glittery lol. I can say now that it's the perfect amount of sparkly! In normal light, there's just a hint of glow, and under direct light it is a sparkle MACHINE, which I think is so fun!
Since it was hard to find videos of the sparkles before buying this bag, I recorded a couple videos of the bag in both direct light and indirect light...
You can watch them here!
And here's a normal pic of the bag...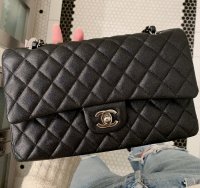 I also LOVE that the caviar is small grains and puffy -- two things that were important to me, too.
Would you ever get an iridescent bag?