I have been a long time LV lover and I am in need of a simple, discreet, black tote bag. I am looking at these two bags and could really use some advice from people who are familiar with the durability of both styles/leathers.
EPI NF - I love the look, hear that EPI is very durable, however I see a ton of crappy looking beat up EPI on eBay and that scares me. I like the pouch but it is not a must have for me. I have a canvas MM NF and know that I like the size. I like the lining better than the Gucci because it is microfiber vs linen cloth.
Gucci swing - Never had a Gucci so I don't know about the durability or quality of their products. Price is great compared to the NF. Has a couple more inside pockets for phone and keys which is nice. I worry that it won't look as good as the LV after a few years. I think the size is slightly bigger than the NF.
Help Me out guys! I don't want to buy another black tote for 20 years so this one has to last, lol. I am looking for classic and timeless. I am only going to use it for travel, so maybe 6-8 times per year.
Here are the Picts of the bags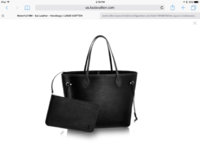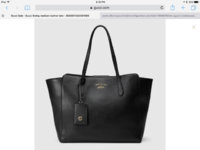 WHICH ONE DO I BUY?? Thanks in advance for the advice.

))