OMG ~~~~ i was playing facebook and i saw this picture of my uni fren.... she looks stunning in her bandeau !!!!! makes me want one so badly, wad do u guys think about it? i am goin hk in 2 days and i planning to shop there, maybe will get a bandeau
?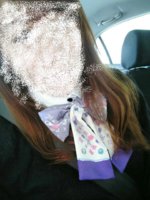 however, i am from Australia n we are having summer now, is impossible for me to wear like her in the picture so i cant think of any method to wear this bandeau =( and i do not like to tie it to my bag, i love my speedy and petit noe as it is....
do u guys have any idea of how to use a bandeau during summer ? like wad type of clothes.... color, material, ?
btw, i love this one too
i am getting more and more norty recently....