I got a new Prada hobo bag for Christmas from my parents and I am LOVING it!
I love the color and how slouchy and soft it is!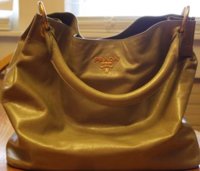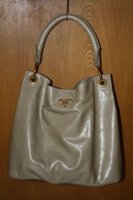 I have a couple questions I was hoping you could help me out with though (I've combed through this forum and haven't found specific answers).
- Does anyone know the original price on this bag? It was purchased from the outlet in San Marcos. I was there when it was purchased and picked it out, so I know what my parents paid for it, but am a sucker for knowing things were a "deal" so was curious about its original price. I found the bag online, but in a different leather, so wasn't sure if the original price was the same. I believe my color is from the 2012 Resort Collection.
http://www.saksfifthavenue.com/main...me=Prada&N=4294912360+306418110&bmUID=jM5hoiq
- Any tips on caring for the leather? I've already gotten what I think are two tiny scratches on it, since its distressed, they don't really bother me, but I don't want to continue with any destruction. Also, should I worry about color transfer from my jeans? Its a lighter color so it worries me some.
- Lastly - the SA didn't fill out any information on the authenticity card with the store info or date, does that have any bearing on its resale, warranty, etc?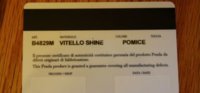 I appreciate your insight very much! It has been a pleasure perusing this section of the forum!
Momma2Rocky