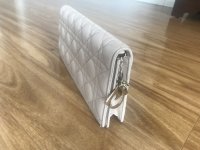 i just got some new bags and while putting them away, I realised that I have lost my Dior clutch's chain

( Feel so bad, wondering if I can replace it somehow? Any advice please?
I just bought a new Diorama clutch, I can use the new clutch's chain for both of them. I would still like to get a replacement somehow! Attaching a picture of the clutch that I lost the chain for.