I'll try to make this brief but I'm finally a member of the Chanel forum.
I live in the suburbs. The most common sighting in the wild is L.V. A hop or skip away and you're in the city. Chanel abounds in the city but there are not many Chanel sightings where I live. Fake GSTs but that's about all. There are no double flaps at the mall. We have no high end stores at all. I've seen one square mini at our nicer restaurant.
I've wanted a Chanel since the days of Princess Di.
I wanted a smallish evening bag that could be used for a nice dinner out.
I started seriously shopping last year. I began my research and spent hours and hours in the forum and on sights looking at bags.
I found one and I picked it up this morning at the post office.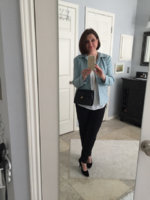 I'm afraid this may not be my only Chanel. It is so gorgeous.
The inside however is trashed.