Hi everyone!
Those of you that have seen the recent loeffler randall bags: how do you feel about the quality, specifically the leather?
I am currently obsessed with this nude/natural leather bag: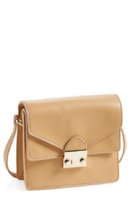 Most of the other lr bag reviews on the
nordstrom
site are good. I would like to know what tpfers think.
I'm thinking about getting this at full price....

I love the light camel color in this pic. Is it more pink IRL like the mini ryder pic? Will it become dark? What if I spray it with apple garde? Does the natural leather look stiff or plastic-y IRL?
Does the hardware hold up?
Thanks for any comments!