Alright, once again I'm torn between fifteen different Chanel bags.
Trendy bucket( my SA is getting it in lilac!!) Super cute!! Does anyone have this bag? Is it easy to get in and out of?
Coco handle, I love, just not sure if it's too mature for my style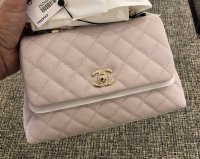 Bowling bag I LOVE but will I get tired of it really fast?