Hi ladies, I hope you all had a Merry Christmas and will have a Happy New Year. I was intending on doing a very special reveal on my 2 new Chanel Bags however that is not the case and I would like to share my experience with you concerning
Fashionphile
. I know that many TPF members have had issues with them selling fakes etc, but I've never had any issues with them until now. It ended well thank goodness BUT I've definitely learned a thing or 2. Sit back this is kind of long. I will try to shorten it a bit.
The background: I have been looking for a Red Chanel for quite some time. So when this particular one popped up on Fashionphile I was stoked. Chanel Double Flap Jumbo Brand New...complete with all the trimmings
Notice the serial # 15653444 (that's important)
I cannot link the actual webpage because it will also link my account info. I assumed that because of the price $5295 and because it was new that the Red was 14C lambskin. That's mistake 1..do your research. I know retail price is $4900 and with tax it would be about the same if I went into the Boutique, but the nearest boutique is in Dubai, so I placed the item on layaway mid October. I'm not sure when I realized that the Red was in fact 12C ( I think from the serial number and and looking through reveals of other TPF members and their Red reveals (******** etc) that I realized it was probably a 12C. No worries because I also knew the 14C had orange undertones but not as much as the 12C. So I didn't want to cancel the item because for layaway cancellations they charge a 10% restocking fee and I would lose $529.50. So I settled and kept paying for the bag. That's mistake 2...never settle. In the meantime I knew that I wanted the 14C so I purchased a brand new 14C chanel Clutch With Chain in Caviar from a trusted seller on
eBay
at retail price (had it authenticated, and I love it) reveal on that later. Back to the jumbo. I paid for the item and received it yesterday and to my dismay...packaged very well BUT 2 dark black ink spots...I'm like wtf. These spots aren't in the photos on their website. So at first I tried to convince myself these marks were ok. Even googled how to remove them. I read Aveeno Lotion, alcohol (but it also remove color) etc but the one that stuck out was on lovingmybags.com "ink stains are best removed as soon as it happens or else it sets into the leather, especially lambskin because it's porous". So I'm like ok, I'm going to just email Fashionphile because I want a refund. For $5300 I want PERFECTION. I'm not rich and I don't have the money to keep dishing out $5K for a bag. Especially when I missed out on the So Black Jumbo that Poohbag posted. Had I waited I could've gotten my UHG Chanel. Pics of my bag with ink marks.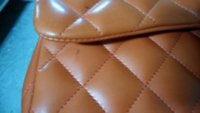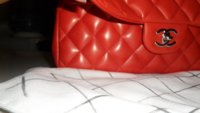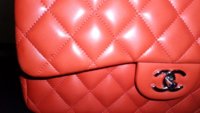 Now I know in the pictures they seem small but they were noticeable to me immediately which led me to believe that if I noticed them, they should have been listed and the bag shouldn't be listed as brand new. New bags don't come with ink marks. When I first emailed Fashionphile they responded immediately and asked that I send pictures. I sent the ones above plus more. Their response "this bag looks orange, the bag you purchased is red". is I explained to them it was an orange red and that when the flash is on, u can't really see the ink marks and I sent them these 2 pics to show them. I also didn't remove any of the tags.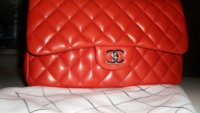 to be continued...max of 6 pics upload. Note that you cannot see any of the ink marks in this picturepiwith the flash o
Last edited: