Ok, so I have been a big fan of Fendi since purchasing my Fendi BTW bag. I used to love Fendi in my teens, and then strayed away from it. I returned back to it with the discovery of the BTW. Just this past weekend I was tempted in purchasing the Scallop Runway Fendi BTW....Until I saw this beauty on the Fendi website. It reminded me so much of the Loewe puzzle bag without the puzzle pieces. What I love the most about this, which I think is a huge advantage over the Loewe puzzle bag is the large zipper that allows for more to be fitted in the bag. It is a great Boston bag, and I truly think it will last for years to come. There is nothing about this bag that screams labels and is such a minimalist bag that I hope to use it for years to come.
I went for the grey but was very tempted to get the toffee. Here in Canada they only had the navy, grey, toffee, and silver. I might have been tempted if they had black, but I think the grey has such a nice look to it.
The bad: the price!! It cost me $3500 Canadian, ouch!!. I think that is very steep but again, because it is so simple, I think it will be a classic. The zipper is also more anterior to the handle, likely to allow the flaps to be snapped to the side. This was a big problem with some BTW's where the flap had to be tucked in to the bag.
Apparently this is a new creation under the direction of Karl Lagerfeld since he took over Fendi. It also is hand made with hand stitching. It is also bigger than my BTW.
It comes with a nice strap which is a long shoulder strap. I am 5.6" and can wear it as a cross body that will fit above my hips but nonetheless It can be done. I also have the BTW strap which I can use. I included a photo of the Strap You that I have that is navy/yellow which I plan to also use with this. It is a mix of gold/silver but I don't care.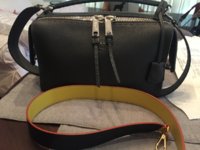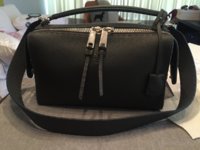 Here she is !!