Hello everyone!
I come to everyone today to ask for help on my final decision
I decided to order a custom tricolor satchel from the leather company. I've figured out everything that I want to add, what I'd like embossed but I can't seem choose which variation I prefer. That's where anyone who comes across this thread comes in. I'd like to know which you think looks better!
The colors are charcoal gray, black and white. They're both the same minus where the gray or black lays on the design.
Attached below are the pictures. Thank you for your help!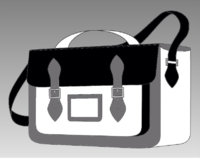 **Please excuse my horrible leather work in the last two pictures. I needed an in person visualization of the bag and used not the best scissors to put something together with the leather color samples they sent me