What should I do? I purchased in November 2016 from my local NM and have been using it on a pretty consistent basis since then, but this shouldn't happen right? (Much less after 2+ months of use).
I don't baby my bags, but don't abuse them either.
Should I contact my NM SA first? Or should I just bring it to a repair place to see if they can fix it?
The unraveling strap:
The bag: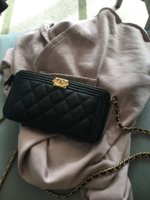 The other strap to show how it's supposed to look: