I just wanted to share some thoughts on the Alpin as there is not much info out there about this bag. Although I am not a backpack type of person, the Goyard SA in Chicago texted me that the Alpin had arrived in the store and asked if I wanted to purchase it. I had hesitated purchasing the Alpin when I was in Paris, but I decided to buy it this second time around. Price: USD 4730.
Pros:
1) Versatile, can be used as backpack or cross body bag although it is quite bulky as a cross body bag
2) Lots of leather mixed with canvas makes this tan/black combo so pretty and stands out
3) The interior has a padded pocket
Cons:
1) I wish this was a more dedicated backpack with attached padded straps instead of the nylon fabric strap.
2) This is not a bag to carry tons of stuff hiking the back country trails but more of a quick day trip around the city or to the mall. The Alpin is almost a hybrid of the LV Newport backpack and the old LV Runner backpack in some ways.
In summary, this is a unique bag with various ways to carry it. It is by no means going to be my go-to workhorse Goyard bag. However, it does fit into my spectrum of bags for specific uses.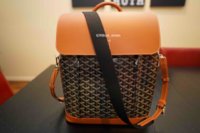 Last edited: