I've been searching for a bright turquoise Birkin all over Europe for many years as it's my absolute favorite colour. So I accumulated SLGs in Bleu Aztec, Bleu Paon and Bleu Izmir, dreaming of owning a B some day in one of these colours. In 2012 I was lucky enough to acquire my first B, a 40cm Ultraviolet in Clemence with palladium hardware as a walk-in. But I still wanted a turquoise coloured Birkin with gold hardware in 35cm, my holy grail as nothing else could satisfy the need for it

After countless rejections while travelling I asked my local boutique if I could place an order and in 2014 I was put on the list for a 30cm (as they said they couldn't get any other size for the colours I cited). I settled with the size, as the colour was far more important to me and prepared to wait for 3 years... Since then I've slowed down with the search, thinking my order will eventually arrive.
Then, earlier this month I went to Paris with my best friend for a couple of days, just for vacation without intention to hunt for a Birkin. However, he suggested to let the hotel concierge make an appointment with FSH. I was a bit hesitant as my order is supposed to come around this time, but agreed, not expecting much.
It was shortly before lunch time when we mentioned the appointment to an SA at FSH, were offered drinks and finally had the appointment with a very lovely SA for the bags. I started citing my favorite leather colours and only then mentioned that ideally it should be a Birkin... she continued asking me for preferences (leather, size, hardware), at which point I got hopeful as usually the SAs would immediately say there were non available... then she left for several minutes, which felt hours. I knew from my first experience that a long wait is actually a very good sign as they are really looking through the stock. My excitement grew... Finally she came back with a big and two small boxes
In the end I only took the content of the big box as the smaller ones contained a bag insert (which I never needed for my larger B) and a decorative cloche with mirror in a different colour (I prefer my bags
au naturel

). Now I'll let the pictures speak for themselves.
Better pics in Post #7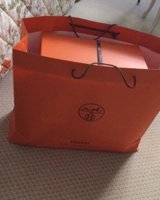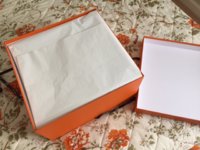 Last edited: