Long Backstory with some cautionary tale:
I thought I was done buying Chanel bags, in fact I don't even have a wish list. I've been taking account of my collection and felt I need to really think about the bags and if they really work for me, so I decide to curate my collection and only keep the pieces I used and not just because it was a good purchase at the time. So, I decided to sell or consider selling some pieces. My small collection had 5 bags (chevron jumbo, caviar jumbo shw, reissue 225 ghw, GST black ghw, chevron grey/taupe old medium boy). Several SLGS and a brooch. I made the decision to sell the GST, upgrade the 225 to 226 and sell some of my SLGS that weren't functioning for my life.
I know I did a post about the 225 and what fits and while I loved the bag it wasn't going to work for the longterm so I did a sale and got the 226 instead. Which brings me to my reveal.
My SA mentioned to me in February she had a client that was selling a square mini and if I knew anyone that was looking. I told her I didn't and kept it moving. Fast forward to about 1 week ago and I text my SA to ask her what bag her client was selling and if was still available. She said she would reach out to my her client and ask her. The client responded and said it was ok for my SA to share her info. We started communicating and about a week and half later I paid $1950 for her and picked her up today
Without further delay. Here is my classic square mini black caviar ghw. She is a 13 series, very little sign of wear, as cute as a button, beautiful hardware with no tarnish, all her paperwork. I cannot put her down.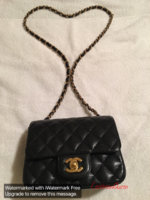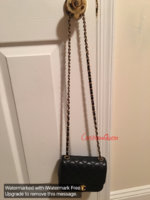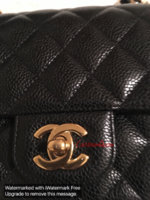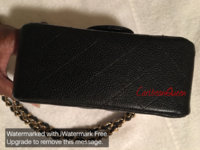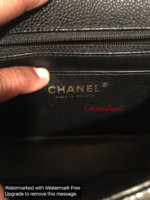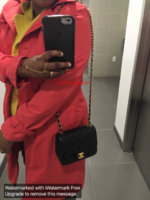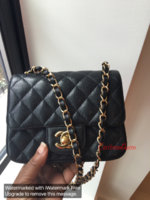 Now for the cautionary tale: I went Chanel crazy the last two years. There is a rush you get when trying to locate a bag and then making the purchase but it can be intoxicating and sometimes you get caught up. This happened with the GST. I hunted that bag down and it was a real chase to get that black with Ghw and I did but the bag sat in my closet barely used for about a year. I carried it to work once and used it on a business trip but it mostly sat in my closet. It didn't work for me or my work environment, the ghw was a little too flashy and that wasn't a good use of my money so I sold it. I also sold a small zip coin purse because it didn't fit much and my LV zip coin purse fit a lot more. I didn't end up keeping the medium o-case with the charms either because while I loved the charms it wasn't going to work out with what I was shaping my collection for the future. I have the small o-case in caviar and it is by far my best Chanel SLG purchase.
So my collection now is mostly just the classic styles and my chevron boy bag with a few SLGS including my woc. I've been thinking about selling the boy bag, it is a good neutral color but not sure it will stand the test of time.
The thrill of finding these bags is great but when you come down from the high and really think about it the larger picture are your really happy with what you see for the long run. This is just my story. I still love Chanel I am just more mindful. I was lucky that I was able to recoup most of my most from my sales. I've also been really lucky to find great preowned items. Thanks for letting me share.
My classics