So I have been hunting for a palm spring mini made in france for the last two month. Wanted to make it a special Christmas gift for my little girl. I really wanted a piece that's made in France for her. She loves Paris and have been longing to visit Paris again. She loves the design of the cute little Palm Spring Mini. She loves the classic Monogram.
And gosh, It took a few tries to finally find her the perfect one. ( the picky one was me haha)
1st attempt: online order: made in Tx, bad alignment, returned.
2nd attempt: phone order: made in Tx, great alignment. Kept it but still asked my in store SA to find me a MIF if possible.
I checked in with him from time to time, no result. I gave up my thought of even finding one at all this week since we are going out of town on Saturday and will be doing gift exchange during the trip.
3rd time is the Charm!
Today!! I went in store for a repair and bumped in to this perfect little thing : Made in France!
( Note: at the same time there was another one made in Spain. The shape was really off. The zipper was bad. It was a lot worse than the one I have made in Tx. I guess made in Europe does not mean it is for sure better. It also depends on who made it.)
Perfect Christmas Gift wish come true! I was thrilled. Sososoooo happy! Tomorrow I can go back to return my last order, made in tx.
Never give up trying! The dream can come true even last minute!
Here is my perfect little baby: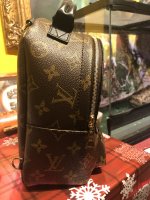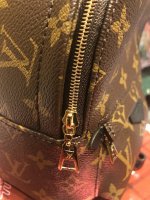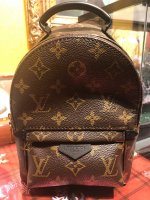 My MIF (left) and my Made in Tx (right) side by side. Both looks perfect. But the made in France canvas is a bit softer. Made in Tx is a bit more stiff. Otherwise, i have to admit the one made in Tx actually had better alignments and smoother back.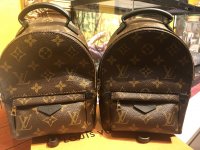 Finally, Christmas gift: One for me One for my girl. ( yeah I got the Childish one....lol) Both made in France
Last edited: