Does anybody here have, or have seen, the KRISTIN LEATHER WILLOW SMALL SHOULDER BAG?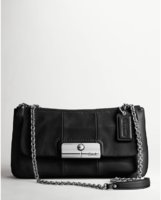 I saw it on the website, and I think it would make a nice evening bag or running-around bag. I am tempted to get it online. I'm so lazy to get my lazy ass to the boutique, also, my local boutique may not even have it.
So I'm wondering if I can get some comments on this bag (about the size, the functionality, the quality, ...) from those of you who have seen or worn the bag. Also, pictures of the bag in action will be greatly appreciated!!!
TIA