Aug 3, 2014
19,157
39,053
Michael Kors says success lies in refusing to be a snob
From manners to microshorts, the world has gone casual. And Kors is there to dress it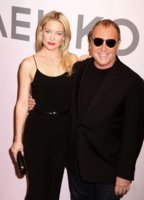 Ask Michael Kors what the toughest thing about being Michael Kors is and, without hesitation, he says, "the calendar". You don't build a US$1 billion empire with 869 worldwide stores by hanging around on Facebook while eating crisps. Kors launched a womenswear line in 1981, filed for bankruptcy in 1993, relaunched in 1997 – the year he became creative director of
Céline
, which may blow the minds of those who thought the house began and ended with Phoebe Philo – launched menswear in 2002 and has since added bags, accessories, jeans, shoes, fragrance, sunglasses, watches and wearables.
In 2014, he joined the billionaires' club, whose members include the Wertheimers, who own
Chanel
perfumes,
Giorgio Armani
,
Ralph Lauren
,
Dolce & Gabbana
,
Valentino
and Miuccia
Prada
.
Every third woman these days totes a Michael Kors handbag. Their ubiquity goes some way to explaining his success. He pre-empted the obsession with "mid-market" priced architecture years ago. The present trend for "accessible luxury"? You could almost say he invented it.
"My wheels started turning a long time ago," he says, when I ask him why he decided to make his bags so relatively affordable, recalling a time in the early 1990s when he was in Bergdorf Goodman on the first day of its seasonal sale. He watched as women "rushed the racks" looking for bargains, and had a lightbulb moment. "Why am I not thinking about them? Why can't I be more ********ic?
"Not just with handbags – with shoes, jewellery, watches, everything. The reality is that people mix up everything anyway. When I was 20, I might have literally spent a month's rent on buying a jacket and then wore it with a pair of thrift shop pants. For a lot of fashion people, price and the idea of wearability and saleability are dirty words. As are age, size, height. I never felt that way, even a long time ago, because I did so many trunk shows and personal events. I was so young when I started; if I hadn't done that, I truly would have been designing in the dark."
Kors' success lies in his refusal to be a snob. Or rather, in his yearning to be inclusive. He is interested in people. More unusually still, he appears to treat them all the same. "Even with celebrities, I mean, I can be pretty blunt with them," he says devilishly. "I'll say: 'You look like you can't move in that. Take it off'."
No wonder close friends such as Liza Minnelli, Bette Midler, Kate Hudson, Sarah Jessica Parker and Blake Lively all adore him. "The simple truth is that if you understand people and you're curious about them, it's a huge leg-up. Whenever I talk to students or designers who are just starting their business, I say: 'Have you spent time in a store? Are you on the street?' And also: 'Are you only friends with other fashion people? Because if you are, it's a disaster. Get out of your bubble'."
Kors' birth name is Karl Anderson, but when his mother, a former model, remarried businessman Bill Kors, she gave him the option to change his first name, too. He was a child model growing up in Merrick, New York – he appeared in a TV ad for Lucky Charms – then an actor, before enrolling at the Fashion Institute of Technology in New York in 1977.
"I grew up with very opinionated women," he says. "They loved to debate. The men, never. But the women in our family would fight over clothes. I listened to all of it. A lot of fashion people, they burn their past: My family? Oh no, I don't want to talk about them. They made you. You don't want to get them dressed? I do. I'm interested. I listen to everything. I've had the same housekeeper in New York for 27 years. She has two daughters, and they wear Michael Kors. One of them is very petite. Tiny. She told me she tried on this coat and it overwhelmed her. The next thing you know, we started doing petite sizes. We make an American size 16 for the runway collection, but we also make a size 0. I don't care if you're 17 or 70. Everyone's looking for similar answers. Maybe I'm old-fashioned, but I think that's my job."
It takes a peculiar kind of snob to ignore the potential dividends of dressing everyone, as opposed to a narrow remit of slim and wealthy people just like them. Yet, so afraid are some luxury brands of doing anything to tarnish their perceived exclusivity that they seem to act in a snobbish way. Fabulous, if your brand is in rude health. Otherwise? Good luck with that. Particularly now, in the midst of such global financial uncertainty.
Some fashion critics might dismiss Kors as too "commercial", but what he may lack in creative spark, he makes up for in strategy. In the same deft way that he identified an overlooked market, he also identified his customers' rapidly shrinking time frame in which to shop. Everyone is overloaded: and so he has embraced what he calls "punctuation points". "They're the signifiers of how you get dressed," he explains. "It's a fabulous coat or jacket, it's an amazing bag, it's the right sunglasses, it's a shoe that's comfortable but cool, and everything else kind of recedes. Those are the look-changers. And fragrance is a signifier. It tells people what mood you're in, says something about you, finishes you off."
Asked about the present pace of fashion, he says: "The calendar globally is insane. You're just going to give everyone burnout, and then no one can notice what's wonderful."
"We used to show 90 looks. Now, I'm like: 'If this is longer than 11 minutes, I'm going to kill myself'."
He famously banned guests from Instagramming his Resort collection in June. "People are overloaded and seeing too much," he says. He still loves Instagram, though, and has in excess of eight million followers. "It's my giant global trunk show."
Kors fiddles with his phone only once when his partner calls him, although he doesn't take the call. He met Lance LePere in 1990 when LePere interned at Kors' design studio while still a student at Parsons. They married in 2011, right after gay marriage was legalised. "We have a similar point of view, but we're different people," he says of the man he describes as his "right hand" – LePere is also head of Kors' womenswear.
Kors has a 26-year involvement with God's Love We Deliver, the New York charity he first encountered when a friend was ill with Aids. Thanks to a nearly US$8 million city grant – and a roughly US$5 million donation by Kors – it now turns out nearly 1.5 million meals a year to people suffering from Aids, cancer and other illnesses.
"How lucky am I? How could you not give back?" he says. "It's my nature. I like results. That's how I approach fashion. Halle [Berry] took her daughter to Nicaragua - she was six at the time - and as soon as they got back to LA she said: 'Mommy, what can we do to help?' That's the key thing. I want people to feel engaged. You don't have to be rich. People donate US$5."
If Kors is affectionately known as a name-dropper, it's clear he does it more out of a duty to entertain than show off. A man who counts Oprah Winfrey, Hillary ******* and Michelle ***** as clients; whose public offering in 2011 was one of the most successful in fashion history, doesn't need to impress anyone. Kors isn't a boaster. He's a people-pleaser. "Try the caviar," he'd said to me the previous evening at his store opening, after having been unfailingly polite to the stream of guests who'd asked for selfies.
On the way home, I think about his courtesy and charm, his sense of public duty and propriety, and one thing he said comes back to me. "I'm convinced that it's an increasingly casual world. I don't know that we'll go back."
He was talking about the way we dress, but he may as well have been talking about everything. From manners to microshorts, the world has gone casual. And Kors is there to dress it.
This article was originally published in Destination Macau