Start of a new year and just as I was busy making my resolutions for the year and trying to be good I get a call from my wonderful SA that she has the bag I wanted on hold for me but I couldn't pick it up right away... Say what??? Then she explained that the bag came in and other SAs have also put their names for their clients on the bag and now the SM needs to decide who will get the bag

... I didn't realize that color was so popular! All I knew was that I was drooling after this color like crazy for sometime. Oh well! This was last Friday and then my SA called at the end of the day to let me know I got the bag :yohooooo: she was off Saturday so I had to wait impatiently for the weekend to pass for Monday! Come Monday after work I headed straight for H and brought my baby home along with a few other accessories!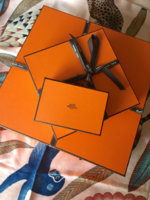 So here's my philosophy about bags... I go for colors ... Of course bag is important but once I have identified which bags suit my lifestyle I go down my list of colors and get the color of my choice. I don't repeat colors except black of course [emoji12]...I have two color lists - a 'must have' and a 'maybe - I am in love with it today but I don't know about tomorrow'.... I let the colors on my 'maybe' list stew for a while. In time if if I still love it enough then it gets transferred over to the 'must have' list... Most of them tend to fall off so my wallet thanks me later [emoji3]...The last time I started a thread I had only one color on my 'must- have' list which was GT... But guess what? Another color made its way from the 'maybe' list to the 'must have' ... Confused yet?[emoji12]
I love colors. Period. Doesn't matter if it's neutral or bright... I can never take one side... I always wanted my collection to be a good mix of neutrals and brights. Last time I got RC so this time I knew it had to be a neutral to balance it out.
Ok enough of my ramblings... Ready to see what I got?
Here she is my new baby... Ms. K28 etoupe in Togo leather with GHW! My first Kelly and I love her so much!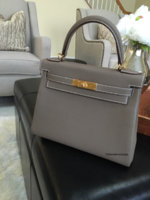 Of course if u know me u know I need to have matching accessories so here she is with her matching mates....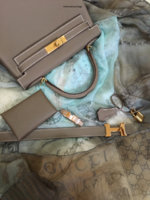 And a mod shot....
Some of my friends asked me - will I ever get a GT? Maybe, maybe not ... All I know is I am pretty happy and satisfied with what I have....I count my blessings everyday[emoji173]️[emoji173]️
Thank u everyone for letting me share my super long story or as my friends call 'long essays'[emoji12]