Hello all! I just unboxed a beautiful small reissue I bought from
fashionphile
. I was really excited about this bag, because it's a 2005 bag-- the 50th anniversary year. It's a 255, black with gold hardware and exactly what I've been wanting. Even came with the box and dust bag.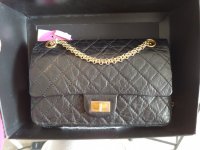 The only thing is that there's a loose stitch--more like a ripped thread. It's right on the side of the bag in the upper corner of the front pocket.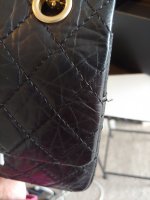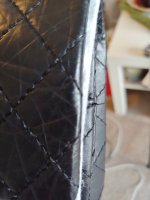 Not only was this not disclosed by fashionphile in the listing or in any of the pictures (I went back and double checked) but because of the way the thread is loose, I'm worried about the problem getting worse. There's also a part in the bottom of the back pocket where white is showing though.
(I'm not sure what it is, but it doesn't appear to be fuzz I can brush off, so I'm wondering if it isn't a little spot of ripped leather, though this matters less to me over the obvious thread.)
I really like this bag otherwise, and I'm not sure if I'll get another chance at it, especially as prices continue to go up, not to mention it's a limited edition item. A 50th anniversary 226 bwgh just popped up on fashionphile, but it's listed at $6795.
What would you do? Keep or return? I feel like contacting fashionphile about the non-disclosed damage would only get me a suggestion to return it.
Another option is to try to get it fixed. Going to Chanel would be my first choice, but I don't know if Chanel would be willing to repair a bag I bought pre-loved? And I've never tried taking bags to third parties for repair.
Any input would be appreciated!