Hey, bag lovers.
I'm torn on whether this is gorgeous or gaudy.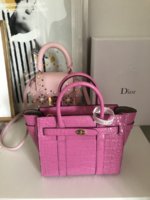 I've wanted a Mulberry at some point and had my eye out for a bright colored bag for Spring. So when I saw this on sale, I thought I'd get it and see it in person to decide. But now I have it I can't!! I love that it's croc leather for long term hardiness. I love that it's Raspberry Pink as I'm comfortable with pops of color. I love the bag design; but all together? [emoji23]
What do you think?
Only physical con I can say is strap is just as hard as the bags leather so it feels too stiff when left to hang and worn on the arm.