Waiting for bags to arrive always kills me, so I thought I'd share my excitement and photos of this bag first, in case anyone is contemplating it! 3 days to go!
So I went to the store with my heart set on the medium college bag in dark anthracite, but when I saw it in person, it was way smaller than I anticipated; I couldn't fit my continental wallet into the largest pocket, and it would barely have room for my iPhone 6 Plus, mini brush, mini pill bottle, mints, lipgloss, and sunglasses. I think without the middle zippered compartment, it all would have fit fine. I still think this bag is probably the one that looks best on me proportionately, but is too small for my needs.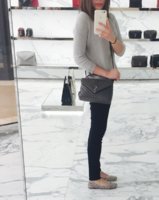 So then I looked at the large college. Definitely fits more, but it doesn't have a crossbody option. Plus, I was expecting overall a more refined finish on the lambskin. Though it was beautiful, I didn't expect it to look as distressed as it looked when I saw it in person.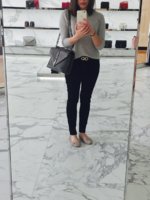 My lovely friend then pointed out the similar large envelope in mixed matelasse leather, and from there I knew I was in trouble!! The calfskin looked sturdier, the anthracite color was a little darker, and there are 3 carrying options: one shoulder with long strap, one shoulder with the straps doubled, and crossbody. My heart started to race and I knew I had to have it!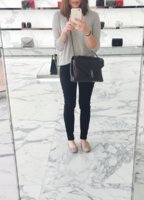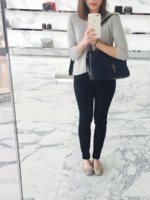 Here's a photo of the college and large envelope together for comparison:
I thought the medium envelope was super cute as well, just too small.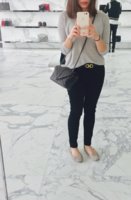 And just for kicks, I also tried on the Chanel jumbo flap, and found that the SL bag suits my style much better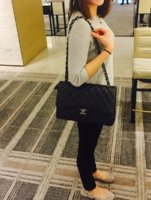 Last edited: