Hey all!
I joined the Celine family last week! My trusty 10yr old Longchamp Le Pliage that Ive been using as my work bag/mom bag finally died and just looking so tatty. Lol. I was looking to replace it with maybe a MZ Wallace or something similarly massive but *understated*. I had also for a hot second considered going to LV for another Neverfull but I had, had a Damier azur NF for a few years and just wasn't impressed plus it's as common as Coach or MK in my area.
So anyway I went to
Nordstrom
and no, I did not intend to spend "that much" on a workhorse bag but the MZ Wallace metro totes they had were actually TOO big for what I needed/ preferred. I didn't want another Longchamp le pliage and the Roseau was too small in comparison, Im not really into Tory Burch and MCM has a decent tote which I considered but as a work bag it's much too "loud".
I'm a Nurse case manager in Community Nursing so work in the office/clinic AND go to peoples homes occasionally so the simpler the better.
So the SA suggested the YSL shopper tote but then we both thought it wouldn't be as sturdy as I needed. She then suggested I look at the Celine Cabas Phantom. I admit to never being heavily into Celine. I had a smaller sized luggage tote briefly years ago but I sold it as it was just to heavy and impractical without the shoulder strap. When she showed me the Cabas literally it was love! It's absolutely massive but can look very it together and professional when the sides are cinched. The leather is so heavy and thick. It's so, so lovely.
I chose the Medium as it fits everything; wallet, pouchette, my work phone, personal phone, a sandwguch, my huge honkingwork laptop and my notebook/case notes. And Ofcourse much, much more!
Here's a couple pics. I'm back at work next week so I'm excited to try her out with work!
As it stands I've been using her as an everyday bag and I love how under the radar it is! Unless someone knows Celine or handbags they wouldn't notice I'm grocery shopping with a 2k bag on my arm. Yknow!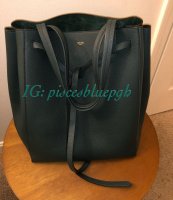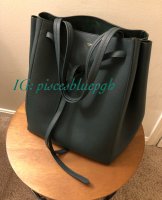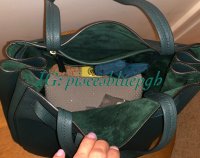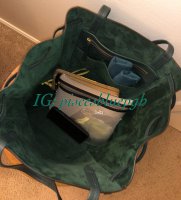 Last edited: