good morning! I've been away from this subforum for a while now, but I bit the bullet and bought my 1st YSL in years.
This was from the Saint Laurent outlet in my city. Nolita in Small. I inspected this at the store when I purchased yesterday, and came home excited to use it this evening.
AsI do with all my bags, I condition them prior to first use. I used the same leather conditioner I have used for years on all my luxury bags (Chanel, Hermes, BV, etc).
I left my bag to dry for half an hour. And this is what it looked like... it almost seems like the glazing on the YSL logo chipped off... and dye came off the corners somewhat.
I contacted the wonderful SA that helped me out (haven't heard back yet).
Is this the result of conditioning the leather?? It looked fine right after conditioning. But after half an hour, it's like this. I am pretty unhappy with this, especially since I take very good care of my things and this is a brand new bag! Since I have been away from YsL for so long, I wanted to ask for input on this.
Any input Would be greatly appreciated! What Reasonable actions can I ask to be done? The tags are still attached and it's completely unused.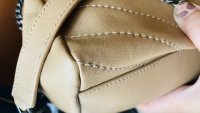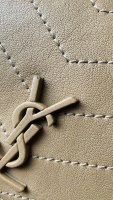 Last edited: