Hi Ladies!
I'm so sorry if I'm posting this in the wrong place! I've been a long time lurker but I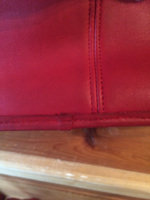 need your expertise. I have recently received a vintage
coach
city bag in red that I'd been hoping to find for some time. When I received it, it was a little rough but for its age i think that's to be expected. I thought I would clean it up a little with leather lotion, but when I went to do so it turned dark in the spots I cleaned then went away when dried. So I think that is ok, however I then had red dye on the cloth I used. I just wanted to double check that it's normal to darker so much and show flaws when cleaned for 1 and 2 with that color transfer am I going to be red whenever I carry this bag? Thank you so much in advance!